Lufran International offers you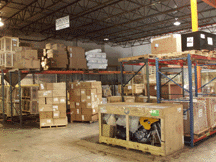 No matter the size of your order, its origin, or destination, this area allows you to request all inclusive quotes for the door to door movement of your international order.
We coordinate everything from the inland pick-up in a foreign country, cargo insurance, and US Customs Clearance.
Ever wonder if you are receiving the most competitive rates available?
We include rates from at least 2 different carriers in our quote.
When importing products into the United States, you need to be aware of the applicable duties and of any special requirements including Quota's, Visa's, Food and Drug restrictions etc...
Complete the questionare with as much information as possible.
A licensed Customhouse Broker will review the information and offer suggested classifications.